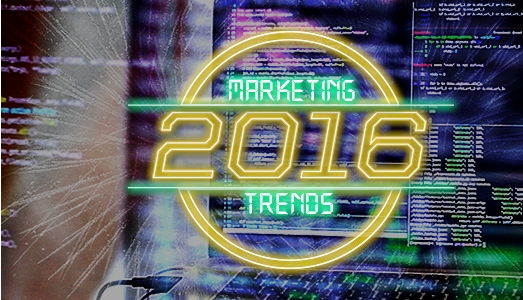 As marketers we are living in an era where our industry is changing at an unprecedented pace. It seems weekly technological developments are changing the way consumers use the Internet requiring us to stay ever vigilant on how to best reach them with the best digital marketing practices.
2016 will be the year when many of the digital marketing technologies which have been used exploratorily will begin to mature and have significant consumer impacts.
In this article, we discuss 6 digital marketing trends that will have a significant impact in 2016.
1. Content Marketing
Whether it's blogs, social networking sites, branded newsroom or image-based, marketing studies consistently show the increasing value of content to website visitor conversion in digital marketing efforts.
Story-based, useful, quickly scannable content consistently demonstrates higher visitor retention and return rates.
Well researched and prepared content which addresses website visitor needs and interests will continue to dominate and grow as a successful means of online marketing.
Predicted to be a $313 billion dollar market by 2019, consumer preference will cause content marketing efforts to focus more on quality and less on spam. Smaller marketing content producers will be under more pressure to create content which competes with the dedicated staffs of the larger online brands.
Having a dedicated team working on original and engaging content for your website is no longer just a savvy marketing move, it's now an absolute must for any successful website.
2. Video Advertising
Studies consistently show higher conversion rates, upwards of 90 percent, when website visitors are presented with relevant, informative and entertaining video content.
Changes to Google's search algorithms, which now provide higher rankings to video content, will increase the popularity of video-based content marketing. This trend builds upon the increasing popularity of video used by social media marketers. Google's acquisition of Youtube.com will only make video ranking metrics even more important.
Successful online marketers will further upgrade the quality of their video content, update it frequently and tie short videos together in story-based themes to reap the higher brand loyalty and traffic numbers associated with episodic video content.
If you don't have a team to readily produce high-quality video content for your site, we recommend getting on that pronto. Like now. Go.
3. Smart Devices
Apple's Siri and Amazon's Echo have demonstrated consumer practical use of speech recognition software.
Both systems are exerting a powerful influence on search engine algorithms. Prior to speech-based lookup, Search Engine Optimization (SEO) utilized keyword ranking as a major component. Natural language speech-based SEO is migrating towards semantic based ranking, which changes the playing field considerably in terms of the way content is designed for and targeted to users of these speech-based devices.
2016 will only see further refinements and enhancements in this new speech-based SEO. What a time to be alive, Siri.
4. Mobile Device Targeting
Additional changes to Google's ranking algorithms earlier this year, which began demoting the ranking of sites that were not mobile friendly, further nudged online marketers into a mobile device mindset.
Google reports that searches originating on mobile devices have surpassed computers in 10 countries, a list which includes the United States and Japan. Several online payment systems supporting tap-based payment including popular eBay, PayPal and Amazon.com sites are making it easier and safer for online consumers to make purchases from mobile devices, a trend which shows increased growth well beyond 2016.
Having a mobile-friendly site is not optional. You literally can't afford to lose out on mobile traffic. If the consumer can't reach you from that little screen in their pockets, you will lose them.
5. Apps
Building on mobile targeted marketing, indexed apps became a consideration utilized by Google's ranking algorithms. App indexing creates expanded search results with links to apps which enhance the end user experience. The enhanced app content is dropped into Google mobile search results.
Marketers have begun to explore the potential of apps in their content marketing efforts.
For instance, not only will a mobile user receive a list of hyperlinks, but they also receive an indexed app in the form of an easy to tap button, to the right of the hyperlink, offering a much more visual and user interactive experience.
For 2016, the number of apps downloaded is expected to exceed 211 billion. That's a big number. I don't care who ya are.
6. Augmented Reality
Augmented reality (AR) is digital content superimposed over the standard view. A popular example would be the heads up display (HUD) used by fighter pilots which we have all seen in movies. While, the view presented to the pilot is the terrain and airspace, additional information from the instrument panel and weapons systems is also superimposed over the HUD view.
The iPhone supports AR in its Converse Sampler application by allowing customers to superimpose their trainer shoe models over their feet. The Converse Sampler user is even able to purchase the shoes he desires right where he happen to be at the particular moment, without ever having to enter a shoe store or talk to a shoes salesperson, showing the online retail and marketing potential of AR. Once again, what a time to be alive.
AR marketing is predicted to approach $150 billion by 2020. Definitely something to keep your eye on.
That's it for us in 2015, but we'll continue to fight the good fight and bring you the latest and greatest in digital marketing come 2016.
HAPPY HOLIDAYS AND HAPPY NEW YEAR FROM YOUR PALS AT ROBOTNINJAS!